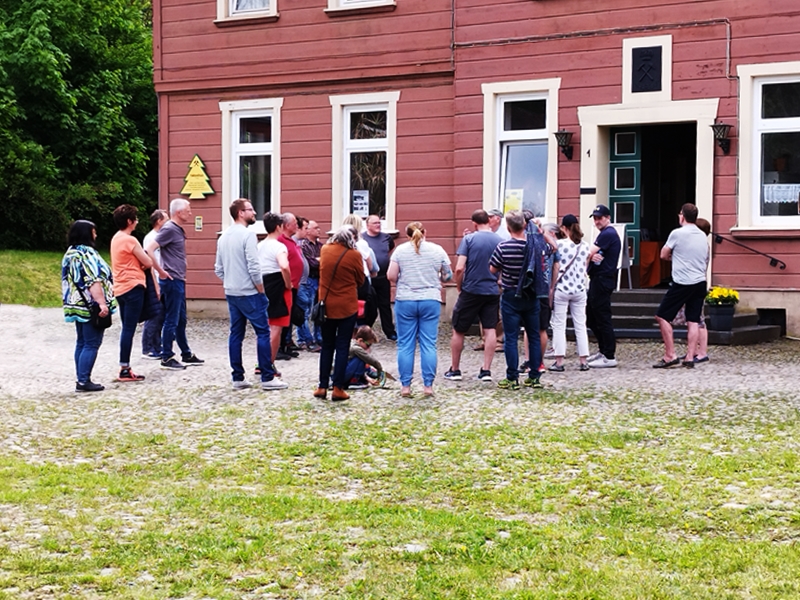 guided tour in front of the factory house - 2023_05_21
Attendance on this year's International Museum Day, 21 May, was initially restrained, but developed quite satisfactorily. The new owner couple had also travelled from Hamburg to be there and to have conversations with one or the other.
The day began with a church service, the pastor was accompanied musically on the accordion. From 11 a.m. there were guided tours, almost 100 people took part in the four tours, among them a group of senior citizens from Dortmund. One of the senior citizens told us that she used to live in the kings' hut (Koenigshuette), in the hut tavern (Huettenschenke. After the management had houses built in Hüttenstraße, she and her family moved to hut street (Huettenstraße)  - This street leads directly onto the grounds of the kings' hut (Koenigshuette). Here it was much more comfortable, there was a bathroom and running water.
From 11 a.m. the café in the hut tavern was open, there were again very delicious cakes and pies, they were donated as every year from privat bakers of Bad Lauterberg. The cakes donated by two local cafés from Bad Lauterberg were also delicious as usual.
At 12 noon, our barbecue in front of the iron magazine opend,  visitors could buy and enjoy roasted sausage and curry sausage as well as steaks.
From 2 pm, a barrel organ player provided musical entertainment on the grounds. Children danced to his sounds.
There was also popcorn and lollipops for the little ones at a stall selling honey and products made from honey such as soap. The stall showing chair weaving was unfortunately not so popular, but the show casting was again a real crowd puller. The foundryman who has been presenting the show casting at the kings' hut (Koenigshuette) with his helpers for years turned 90 this year.
Thanks to the good weather, it was a successful museum day overall.