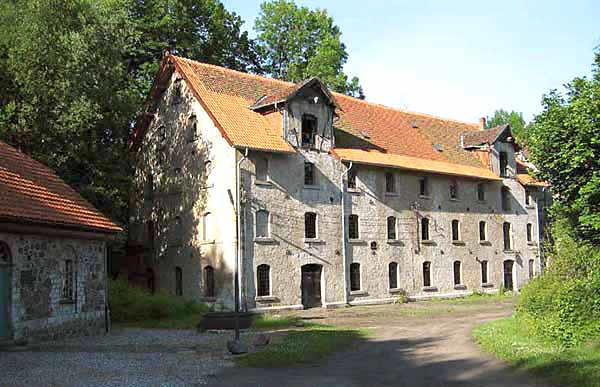 More Info
The old industrial mill in Bad Lauterberg in the Harz Mountains stands on the site of the Königshütte foundry. It was built in 1872 and operated until 1960. The main building is a massive stone structure, which is divided into two areas inside. The outbuilding on the right - not to be seen in the picture - was the mill's granary and was demolished in 2007.
At the Königshütte, which was founded in 1733, a hammer mill was initially in operation at the present location of the grain mill, which was also operated with a hydroelectric power plant (water wheels) at the time of its foundation.
In the course of the privatisation of the fiscal Königshütte in 1871, the foundry was continued by two entrepreneurs from Wolfenbüttel, one of whom, the millwright A.C. Peters, had previously operated the "Erste Deutsche Mühlenbauanstalt" (First German Mill Construction Institute) together with Gottlieb Lutter in Wolfenbüttel. He thus contributed his knowledge to the technical design of the mill.
As a result of the further development of the hammer mill, the hammer mill was demolished in 1871 and the commercial and industrial mill, which was modern by the standards of the time, was erected on this site in 1872. The mill had three overshot water wheels which drove four grinding gears and six barley gears. Next to the massive mill building a three-storey ground storage was built.
The conversion of the main mill into a wheat and rye mill in 1920 is the situation as it is found today. Only the classifier systems were replaced after 1935 by 2 plansifters and a semolina cleaning machine. The capacity of the mill was 15 tons of wheat and 12 tons of rye per day. This made it one of the larger mills.
In 1960 the mill was closed in the course of the mill shutdown, which was supported by public funds. The motors and belts were dismantled. Since, unlike other larger industrial mills, no subsequent use was found, it remained in its present form with its milling machines.
Due to the still pending, large renovation needs inside the mill, a public viewing is not possible.
All pictures (c) Angelika Stück (http://stuecksicht.de/).
The individual elements of the mill are shown in the following plan: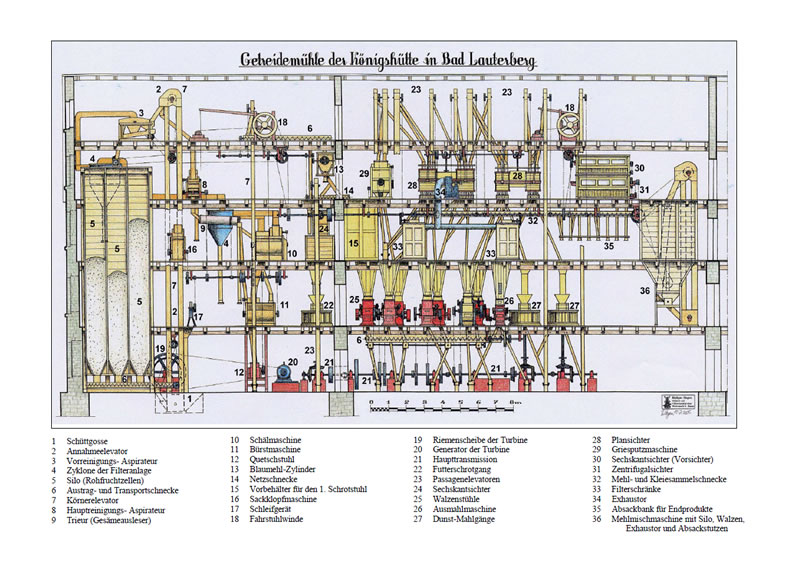 Download of the plan as a printable PDF-file: Hagen-Endform-D_190813.pdf (PDF, 608 kB)