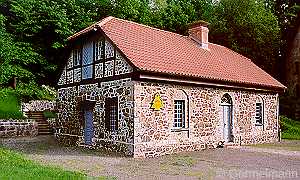 The Förderkreis Königshütte Bad Lauterberg e.V., founded in 1983 on the occasion of the 250th anniversary of the Königshütte foundry, has set itself the goal of its voluntary activities to preserve the valuable historical substance of the listed building ensemble in cooperation with the Königshütte company and to put it to museum use.
Additional tasks are to research, document and communicate to a broad public the history of the once so important South Harz ironworks, but also that of ironstone mining and forest charcoal making. To this end, the then considerably dilapidated Tasting House (ironworks laboratory) was renovated with funding from various public and private sources and converted into the South Harz Ironworks Museum.
Concepts were also developed for the use of the industrial monument. One imagines a historical industrial park. The idea is to present mechanical engineering, locksmithing, iron casting, artistic forging and other metalworking trades. In addition, the former grinding mill, which was one of the largest in the country when it was founded, is to be renovated. The fully preserved interior is to be restored step by step.
Accession & Statutes
New members are welcome at any time!
The contribution amount is:
30 EUR / year for individuals
10 EUR / year for pupils & students
40 EUR / year for couples
80 EUR / year for companies
You can download the membership application form and the statutes of the association here: